SEARCH FOR YIELDS Issue 1, October 10th
Why is your money value going down every day?
The single most common complaint amongst investors is the low single digit returns on Bank Fixed Deposits. Banks are offering almost nothing on FDs, as they are flushed with funds provided by RBI and the cost of funds is just 4%. COVID pandemic has made RBI drop interest rates to record lows in 2020. With inflation at over 6% as per the latest inflation numbers from the government, savers are extremely worried, as their savings get eaten up on inflation. Check out our tutorial on how inflation eats up savings.
Search for higher returns
So, what are investors doing to get higher returns on their savings? They are increasing their risk by investing in Bonds and Equities. One friend told me that she has started to trade in equities by taking money out of FDs and this trend is visible as seen from the surge in the client base of India's largest online discount broker, Zerodha, which has seen client base grow in very high double digits in the last one year. The retail subscription in recent IPOs have also surged, irrespective of the quality of the IPO on offer and this is highly risky as many of these companies see values drop sharply. The number of stocks trading well below Rs 10 face value tells you how much retail investors tend to lose in bad companies.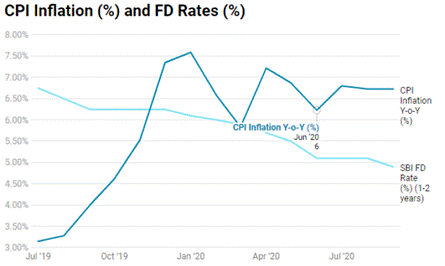 Investors are also increasingly turning to Bonds, which offer returns higher than FDs. Some bonds, commonly known as High Yield bonds or Junk Bonds offer very high returns in mid to high double digits and investors are lured by these returns, little knowing the high they are taking. We have online foundation courses on Bond Investments if you want to understand risks in bonds.
Bonds can default
Very simply put, when the economy is hardly growing due to COVID and high interest rates are offered on bonds, the question arises on how these companies, whose bonds are offering high interest rates, will make enough money to pay interest and return capital to investors. In the recent past, investors have lost capital by investing bonds of issuers such as DHFL, Reliance Capital and have also lost capital by investing in high risk credit funds of Franklin Templeton and others who have invested in bonds of issuers who have defaulted on debt repayments. However, this learning has not prevented investors to seek high returns from risky bonds. Bonds do offer a better solution to low FD rates but investments in bonds need to be done with knowledge or advise from a knowledgeable advisor who can identify the right bonds for investments.