Lakshmi Vilas Bank has issued 3 tranches of unsecured non-convertible redeemable fully paid-up Basel III compliant tier 2 bonds of worth Rs. 3.18 billion. On 26th November 2020, RBI mentioned in a notification that LVB's Basel III compliant tier 2 bonds will be written down before the amalgamation process as per Section 45 of the Banking Regulation Act,1949. Also, shares of LVB have been discontinued from trading on exchanges effective from 26th November 2020.
Lakshmi Vilas Bank – 2nd Bank to Fail in 2020, more to come?
Lakshmi Vilas Bank (LVB), an old private sector bank, was deemed to fail by the RBI and a white knight in the form of DBS has agreed to take over the bank. LVB is the second bank to fail after Yes bank. As in the case of Yes bank where depositors were protected but AT1 bond holders lost their capital, LVB too will see depositors being protected and bond holders losing capital.
Bank failures, two in the same year, leading to bond holders losing capital are unnerving investors, especially in weak private sector banks. Institutions are shunning away from lending to such banks and this leads to a liquidity crunch that makes the banks fail. How many more such banks are there?
Shareholders lose on equity prices falling while bond holders too lose when banks fail. Investors should invest in banks based on financial strength and not on perceived RBI support.
Lakshmi Vilas Bank Merger with DBS Bank
In the wake of deterioration of the financial position of Lakshmi Vilas Bank Ltd and failure to raise required capital, RBI has put the bank under moratorium till 16th December 2020. Earlier, the bank was placed under the Prompt Corrective Action (PCA) framework in September 2019 considering the breach of PCA thresholds as on March 31, 2019. However, RBI clarifies that the depositor's interest will be fully protected and there is no need to panic.
In order to revive the bank, RBI has presented a draft of amalgamation between Lakshmi Vilas Bank and DBS Bank India Ltd (DBIL). DBS Bank, Singapore is a subsidiary of Asia's leading financial services group, DBS Group Holdings Ltd.
As of June 30, GNPA and NNPA of DBS stood comfortable at 2.7% and 0.5%, respectively. Capital to Risk Weighted Assets Ratio (CRAR) came in 15.99% with common equity Tier-1 (CET-1) capital at 12.84%.
DBS Bank       will infuse additional capital of Rs 25 billion upfront, to support credit growth of the merged entity. After the proposed amalgamation, DBS Bank is expected to possess CRAR at 12.51% and CET-1 capital at 9.61%, without taking into account the infusion of additional capital.
 Financial Performance of Lakshmi Vilas Bank
·         CAR and Tier I CAR stood at 0.17% and -1.83% as June 30, 2020 as compared to 1.12% and -0.88% as of March 31, 2020
·         Non-Interest Income stood at Rs. 0.96 billion in Q1FY21 as against Rs.0.53 billion in Q1FY20.
·         GNPA and NNPA as of June 30, 2020 stood at 25.40% and 9.64% respectively.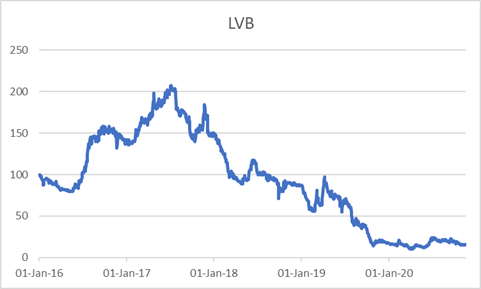 | | | |
| --- | --- | --- |
| Instrument | Amount(billion) | Rating |
| Lower Tier II Bonds | 0.505 | CARE BB-; Negative |
| Tier II Bonds (Basel III Compliant) –I | 0.781 | CARE B-; Negative |
| Tier II Bonds (Basel III Compliant) –II | 1.401 | CARE B-; Negative |
| Tier II Bonds (Basel III Compliant) –III | 1.00 | CARE B-; Negative |
                                                                                                                                        (Source: CARE)