A REIT is a company that owns and typically operates income-producing real estate or related assets.
Real Estate Investment Trust (REITs) is an investment trust that owns, manages and operates income-producing real estate assets. It allows individual investors to make investment in this platform and earn income in the form of rental yields and appreciation in capital values of the property.
Under regulations, a REIT has to invest a minimum 80% of the value of its assets in completed and rent and/ or income generating properties. A maximum of 20% of the total value of REITs can be invested in under construction properties with a lock-in period of three years after completion and completed but non-rent generating properties, the listed or unlisted debt of real estate companies, MBS, Government securities, equity of listed companies in India, generating at least 75% of their income from real estate activities, cash or money market instruments.
REITs would be registered as trusts with SEBI. These trusts would not be allowed to launch any scheme. They would be able to raise funds through initial offers and would have to list their units on exchanges for trade. They would be allowed to raise additional funds through follow-on offers as well.
It is mandatory for REITs to distribute at least 90% of their net distributable income after tax to investors.
Structure of ReITs
A REIT operates through a three-tier structure.

The 3-tier structure of REITs is formed by a sponsor, AMC and Trustee. The sponsor brings in the capital comfort for setting up the REIT.

The AMC is responsible for selecting and operating the properties.

The trustee ensures that the money is managed in the interest of unit-holders.
  Tax provision for ReITs
The dividends distributed by REITs are taxable in the investors' hands. The dividend income is taxable as per the slab rates applicable.

The tax on Long Term Capital Gains incurred by the investors when they sell the units (REIT units) after 3 years of holding is 10% if the LTCG

is

 in excess of Rs 1 lakh.

The short -term capital gains on the sale of units held for less than 3 years will be taxed at 15%.

As per Union Budget FY24, capital repayment to unit holders by trust will be taxed out of net cost of acquisition(distributed amount excess of issue price) in hand of unit holders.
Embassy Park REIT  
Embassy REIT is registered as an irrevocable trust under the Indian Trust Act, 1882, and as a REIT with SEBI's Real Estate Investment Trust Regulations, 2014.
Embassy Office Parks REIT has been rated as AAA by both CRISIL and ICRA.
Its shares got listed in April 2019. Its past 1-year return stood at -19%
           Embassy Office Parks REIT bond yield movement
| | | | | |
| --- | --- | --- | --- | --- |
| Date | ISIN | Coupon (%) | Yield (%) | Maturity |
| 04/Jan/23 | INE041007092 | 7.35 | 7.65 | 5/4/27 |
| 10/Jan/23 | INE041007050 | 6.40 | 8.2 | 15/02/2024 |
| 11/Jan/23 | INE041007050 | 6.40 | 8.2 | 15/02/2024 |
| 24/Jan/23 | INE041007050 | 6.40 | 8.15 | 15/02/2024 |
| 25/Jan/23 | INE041007050 | 6.40 | 8.15 | 15/02/2024 |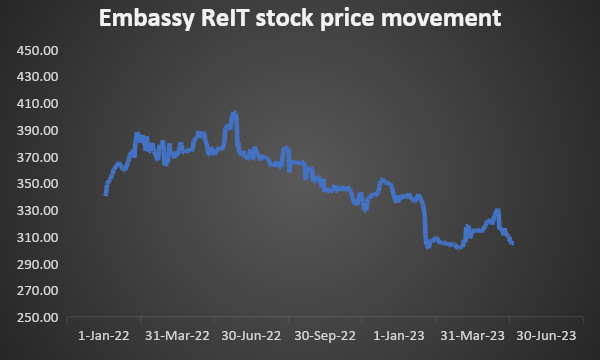 Mindspace REIT
       Mindspace Business Park REIT has been rated as AAA by CRISIL.
       Mindspace REIT share price was listed in August 2020. Its past 1-year return         stood at    -7%.
Mindspace REIT bond yield movement
| | | | | |
| --- | --- | --- | --- | --- |
| Date | ISIN |   | Yield (%) | Maturity |
| 10/Feb/23 | INE0CCU07041 |  MLD | 7.98 | 17/05/2024 |
| 16/Feb/23 | INE0CCU07041 |  MLD | 9.85 | 17/05/2024 |
| 21/Feb/23 | INE0CCU07041 |  MLD | 9.5 | 17/05/2024 |
| 22/Feb/23 | INE0CCU07041 |  MLD | 9.85 | 17/05/2024 |
| 24/Feb/23 | INE0CCU07041 |  MLD | 9.5 | 17/05/2024 |
| 08/Mar/23 | INE0CCU07041 |  MLD | 9.47 | 17/05/2024 |
| 09/Mar/23 | INE0CCU07041 |  MLD | 9.06 | 17/05/2024 |
| 10/Mar/23 | INE0CCU07041 |  MLD | 9.43 | 17/05/2024 |
| 20/Mar/23 | INE0CCU07041 |  MLD | 9.43 | 17/05/2024 |
| 21/Mar/23 | INE0CCU07041 |  MLD | 8.45 | 17/05/2024 |
| 23/Mar/23 | INE0CCU07041 |  MLD | 9.26 | 17/05/2024 |
| 24/Mar/23 | INE0CCU07041 |  MLD | 9.1 | 17/05/2024 |
| 27/Mar/23 | INE0CCU07041 |  MLD | 8.31 | 17/05/2024 |
| 28/Mar/23 | INE0CCU07041 |  MLD | 9.25 | 17/05/2024 |
| 29/Mar/23 | INE0CCU07041 |  MLD | 9.28 | 17/05/2024 |
| 19/Apr/23 | INE0CCU07041 |  MLD | 9.49 | 17/05/2024 |
| 28/Apr/23 | INE0CCU07041 |  MLD | 9.49 | 17/05/2024 |