6 Apr 2023
G-sec yields curve to steepen -RBI Monetary Policy Review-Apr 23
RBI's pause in rate hike decision is against market expectations of minimum 25 bps hike. Consequently, the g-sec yields curve is likely to steepen from the current levels with short term yields of falling. System liquidity is expected to remain comfortable going ahead.
Considering the current economic scenario, RBI Monetary Policy Committee has decided to keep the policy repo rate unchanged at 6.50%.
Inflation projection

 -On the assumption of a normal monsoon, CPI inflation is projected at 5.2% for 2023-24, with Q1 at 5.1%, Q2 at 5.4%, Q3 at 5.4% and Q4 at 5.2%.
GDP growth

-Real GDP growth for 2023-24 is projected at 6.5% with Q1 at 7.8%, Q2 at 6.2%, Q3 at 6.1% and Q4 at 5.9%.
System Liquidity and Forex-

 

The average daily absorption under the LAF moderated to Rs 1.4 trillion during February-March. During 2022- 23, money supply (M3) expanded by 9.0% and non-food bank credit rose by 15.4%. India's foreign exchange reserves were placed at US$ 578.4 billion as on March 31, 2023.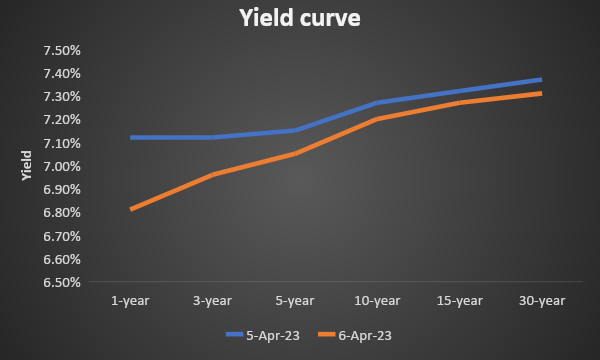 From the above chart, it can be seen that post policy announcement, yield curve exhibits steepening.
We would love to hear back from you. Please Click here to share your valuable feedback
Disclaimer:

Information herein is believed to be reliable but Arjun Parthasarathy Editor: INRBONDS.com does not warrant its completeness or accuracy. Opinions and estimates are subject to change without notice. This information is not intended as an offer or solicitation for the purchase or sale of any financial instrument. The financial markets are inherently risky and it is assumed that those who trade these markets are fully aware of the risk of real loss involved. Unauthorized copying, distribution or sale of this publication is strictly prohibited. The author(s) of the content published in the site INRBONDS.com may or may not have investments in the assets discussed in the pages/posts.
Copyright © INRBONDS.com by Arjun Parthasarathy 2019-2023