Sensex and Nifty50 will react to PM Narendra Modi decision of revoking the 3 farm laws and to the deal termination between Reliance Industries & Saudi Aramco. Saudi Aramco was supposed to acquire 20% stake in O2C business of Reliance. F&O monthly expiry will also add additional pressure to the market in this week. Global investors will look out for FOMC meeting minutes and preliminary estimates of global PMI levels.
During the last week, Sensex & Nifty50 declined as much as by 2% amid weak global cues. IT, Financials and Pharma sectors were the main draggers. Paytm shares plummeted by 28% on listing. FIIs/FPIs have sold Rs. 135 billion in October 2021 and invested Rs. 140 billion in November 2021 (as of 21st November). Foreign Institutional Investors (FIIs) Derivative Statistics have shown a rise in the open interest(OI) in stock futures, stock options, index futures and decline in OI for index options.
Dow Jones and S&P 500 closed on negative note on Friday on the back of worries over rise in Covid-19 cases ahead of Holiday Season and new lockdowns imposed in Europe. On 8th November 2021 opened its borders fully for travellers and concerns of Covid resurgence risk is reflected in the market sentiment. Nasdaq 100 closed on positive note on Friday as rotation to tech stocks continued. During the week, Dow Jones down by 1.38%, Nasdaq surged by 2.31%, and S&P 500 up by 0.19%.
European markets touched new highs during the week, however, closed in red on Friday amid concerns over rising Covid-19 cases. Austria has imposed lockdowns and Germany & Greece likely to follow the same. ECB President said that the central bank should not tighten monetary policy and reinforced the idea that inflation remains temporary. During the week, DAX up by 0.40% and FTSE declined by 1.70%.
Brent crude prices fell USD 80 per barrel, fourth weekly decline in prices amid expectation of US releasing oil reserves to curb higher oil prices. During the week, prices declined by 4%.
Gold prices fell by 0.70% during the week amid USD rally. Federal Reserve Governor Christopher Waller's comments calling for early tapering to help shape a tighter monetary policy and to give more freedom to the monetary authority to raise its nearly zero level rates boosted the sentiment for USD.
Global Economy
Annual inflation rate in the Eurozone increased to 4.1% in October 2021 from 3.4% in September 2021, the highest reading since July 2008, and in line with preliminary estimates. Eurozone continues to battle surging energy costs while supply shortages persist.
Japan unexpectedly registered a trade deficit of JPY 67.37 billion in October 2021, missing market consensus of a surplus of JPY 310 billion and shifting from a surplus of JPY 840.79 billion in the same month a year earlier. This was the third straight month of trade deficit, with exports rising by 9.4% YoY to JPY 7,184 billion while imports jumping 26% YoY to JPY 7,251 billion.
Core consumer prices in Japan which exclude fresh food increased 0.1% over the same month in the previous year in October 2021.
US crude oil inventories declined 2.101 million barrels in the week ending 12th November 2021, after a 1.001 million increase in the previous period and compared with market forecasts of 1.398 million rise, data from the EIA Petroleum Status Report showed.
The number of Americans filing new claims for unemployment benefits fell by 1,000 to 268,000 in the week ended 13th November 2021, a new pandemic low, but less than market expectations of 260,000 as employers avoid layoffs and many workers quit.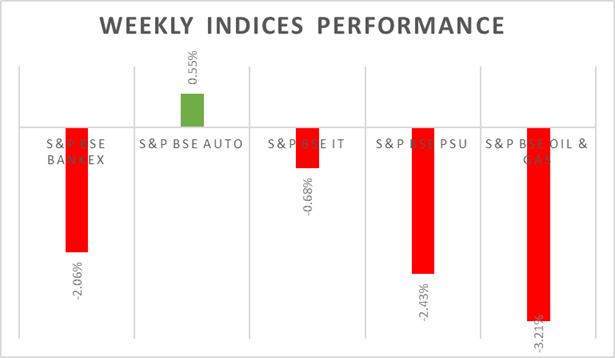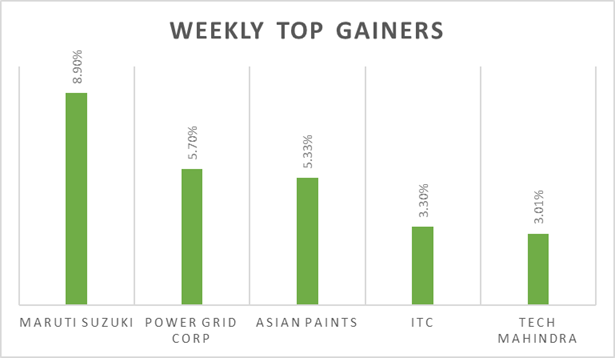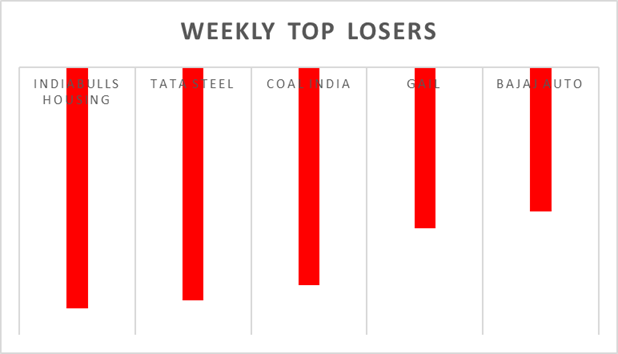 | | | | |
| --- | --- | --- | --- |
| Equity Indices | 19-11-2021 | 12-11-2021 | % Change week on week |
| Indian Indices | - | - | - |
| Nifty | 17764 | 18102 | -1.87% |
| Sensex | 59636 | 60686 | -1.73% |
| CNX Midcap | 31271 | 31925 | -2.05% |
| Bank Nifty | 37976 | 38733 | -1.95% |
| CNX Infra | 5177 | 5323 | -2.74% |
| CNX IT | 36007 | 36332 | -0.89% |
| Derivatives Nifty Near month | 17770 | 18141 | -2.05% |
| Spread over underlying | 6 | 39 | -84.62% |
| Traded Contract Rs crores | 14616 | 14413 | 1.41% |
| Implied Volatility Put | 13.90% | 13.65% | 1.83% |
| Implied Volatility Call | 11.31% | 11.87% | -4.72% |
| Global Market indices | - | - | - |
| Nikkei 225 | 29745 | 29610 | 0.46% |
| Hong Kong Hangseng | 25049 | 25328 | -1.10% |
| China Shanghai Composite | 3560 | 3539 | 0.59% |
| Korea Kospi | 2971 | 2968 | 0.10% |
| German DAX | 16159 | 16094 | 0.40% |
| UK FTSE | 7223 | 7348 | -1.70% |
| Dow Jones Industrial | 35602 | 36100 | -1.38% |
| Nasdaq | 16573 | 16199 | 2.31% |
| Currency Market | - | - | - |
| USD/INR Rs | 74.35 | 74.34 | 0.01% |
| EUR/USD USD | 1.1281 | 1.1444 | -1.42% |
| USD/JPY JPY | 114.03 | 113.92 | 0.10% |
| USD Index DXY | 96.07 | 95.12 | 1.00% |
| Commodities Market | - | - | - |
| Brent Crude Oil (USD/Barrel) | 78.89 | 81.99 | -3.78% |
| Gold (USD/ Oz) | 1854 | 1867 | -0.70% |